April 26, 2023 10:03 am
Our particle engineering experts will be in London end of May with other leading experts in pharmaceutical science to present Secoya's Crystallization Technology (SCT) during the Formulation and Delivery addressing the critical strategic advances and technical innovation in formulation, drug delivery and drug product development. Also, attending the Formulation and Delivery Congress? Stop by our booth (#17) to discover our unique technology that enables a fast and easy scale-up of the crystallization process thanks to tight control of specific parameters such as particle size or distribution and that remain the same from lab to production scale.
SCT Family: equipments from lab to industrial scale
From the laboratory setup to the industrial-scale equipment, Secoya Technology has developed a full range of products that use the same parameters set all along the scale-up process:
SCT-LAB
This bench equipment has everything to make your life easy for fast crystallization screening. The batch type approach allows fast screening whilst assuring low product consumption.
SCT-PILOT

SCT-PILOT unit allows to fully explore the design space of a crystallization process, performing controlled long-term runs on one single reactor on the same experimental conditions as the SCT-LAB equipment.
SCT-ICE
The cGMP SCT-ICE unit is designed for easy access and exchange of modules, depending on the customers needs. Versatile, it enables the production of different compounds by simply exchanging the modules in between production runs.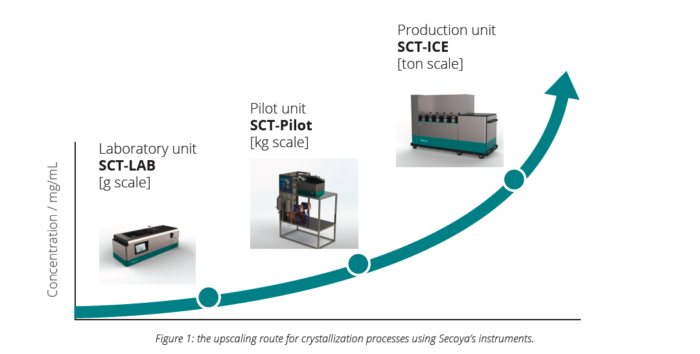 About the Secoya Crystallization Technology:
Unlike any alternative process, the Secoya crystallization technology is based on the precise control of spontaneous nucleation through the use of millifluidic tubular reactors upon cooling and different antisolvent addition possibilities. Using such capillaries, any parameter influencing the nucleation is ideally optimized and controlled.
Secoya's crystallization technology is unique, enabling crystallization of molecules in a single process step avoiding difficult work-up when performed with conventional batch systems.