The new generation of Secoya Crystallization Technology SCT-LAB instruments has now a fully integrated stock solution heating and agitating position, allowing to dissolve the molecule of interest inside the instrument without further handling required.
The accessibility of the mixing inserts and reactor has drastically improved, with a guaranteed watertightness of the reactor holder without the use of screws and bolts which enables the user to more rapidly exchange the reactor, without any fuss.
Heat flow studies have pointed out the increased thermal stability of the machine as well at the point of the syringes so that heating and cooling is much more effective and uniform.
The tubing connecting the syringes and inserts are now maintained in the same heated and cooled compartment to avoid clogging before the product enters the inserts. It comes equipped with a dedicated thermostat from Huber Kaltemaschinebau, software controlled by our 21 cfr part 11 compliant software.

A highly controlled process
Unlike any alternative process, the Secoya crystallization technology is based on the precise control of spontaneous nucleation through the use of millifluidic tubular reactors upon cooling and different antisolvent addition possibilities. Using such capillaries, any parameter influencing the nucleation is ideally optimized and controlled.
Secoya's crystallization technology is unique, enabling crystallization of molecules in a single process step avoiding difficult work-up when performed with conventional batch systems.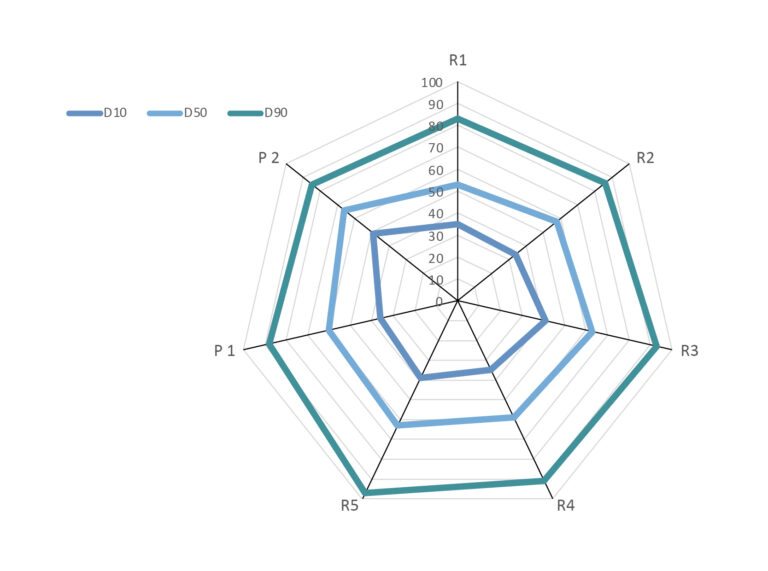 Lactose crystallization tests: extrapolation of results using identical parameters for both lab scaled testing (R1-R5) and pilot testing (P1 and P2).
Seamless scale up from lab test
to production validation
Thanks to the robustness of the crystallization technology, the parameter set is determined during the laboratory scale screening phase to achieve the desired particle size and distribution. This set is validated at pilot scale during kilogram testing before parallelization towards production scale.
Want to know more about the NEW SCT-LAB V2?
Question ? Contact us by filling in the contact form below or pop us an email at info@secoya-tech.com